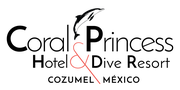 Must Read Prior to Arrival
WORRY-FREE TRAVEL
Here you will find relevant and important information for your trip. Please download the following document by clicking on the button.

DOWNLOAD THE DOCUMENT HERE



CORAL PRINCESS HOTEL & DIVE RESORT

The safety of our staff and guests is our top priority.

The following safety protocols can be guaranteed for your peace of mind:

‣ Disinfection kiosk at the entrance.
‣ Web check-in with QR code.
‣ Restaurant menus are in digital format in QR codes.
‣ WE DO NOT ACCEPT CASH. Only room-charged billing is available.

Limited or suspended services

‣ Front Desk provides attention from 7 am to 11 pm.
‣ Check-in hours: from 3 pm to 10 pm.
‣ Restaurant Amaryllis is open from 8 am to 4 pm.
‣ El Cayuco Bar provides outdoor service from 10 am to 6 pm.
‣ The Fitness Room's maximum capacity is 4 people.
‣ Pool Bar will reopen soon.
‣ Room Service remains suspended.

The safety protocols implemented at the Hotel follow International Guidelines like:

CDC.gov

WTTC.org

Because of Omicron and its sub-variants, we ask you that at the slightest symptom you notice please request a test and notify our staff about your result 📄

Cozumel Island and other Quintana Roo States' Viral Scale is GREEN since February 21st, 2022.

Last update: Nov. 8th, 2022.