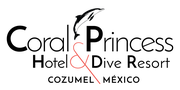 Happy Holidays 🪄🥂🪄
Coral Princess Hotel & Dive Resort Exclusives
Happy Holidays 🪄🥂🪄
#lookingforward2023

Like every year, we will have a Christmas dinner and a New Year's party to celebrate the arrival of 2023 and thank 2022. #lookingforward2023



Take advantage of active discounts and book your room with breakfast included.



The end of the year 2022 is approaching, leaving in its wake many unique experiences and lessons for each of us. We invite you to celebrate the holidays at Coral Princess.
Offer valid from 26/11/2022 to 01/01/2023
From:
$137 USD
taxes not included.