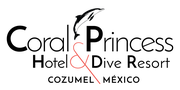 Special Deal!! Quintana Roo Residents
Coral Princess Hotel & Dive Resort Exclusives
Special Deal!! Quintana Roo Residents
☀👒👙

Do you reside in the paradisiac state of Quintana Roo? We got you an Exclusive Deal!



If you are a living anywhere in Quintana Roo and want to visit Cozumel Island, use the code QRSOY and receive an additional 10% discount on any active offer for stays between September 12 and December 16, 2022.

What are you waiting for? Take this opportunity and book this exclusive offer on our official website!



REQUIREMENT - To maintain the discount at the time of check-in, it is necessary to show your original (updated) INE or a utility bill under your name. This discount does not apply on LONG STAYS.
Offer valid from 26/11/2022 to 31/03/2023
From:
$2,070 MXN
taxes not included.