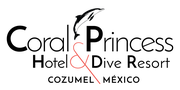 Competitions 2022
Coral Princess Hotel & Dive Resort Exclusives
Competitions 2022
Host Hotel 🏊🏽‍♀️ 🚴🏼‍♂️ 🏃🏿‍♀️
If you will participate in any of the sporting events that will take place this 2022 in Cozumel, use the promo code 2022WIN to get a SUPER discount. Participate in Ironman 70.3, AsTri Cozumel, GFNY and Ironman.
To uso this promo code a minimum of 2 nights stay is required.
We are a Host Hotel in 2022 except for GFNY. As Host Hotel we will have a specialized mechanic on site and transportation to T1 on Race Day.
Offer valid from 02/07/2022 to 20/11/2022
From:
$91 USD
taxes not included.