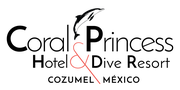 Extended Stay
Coral Princess Hotel & Dive Resort Exclusives
Extended Stay
Beach Office 💻🧘🏽

Stay longer, and do Beach-office.



From 14 nights, stay in a suite. Different discounts apply from 40% to 60% off!!



Work from Cozumel, from your room, by the pool or enjoying a coffee in town. We no longer need to be nailed to a desk. We are waiting for you at Coral Princess!
Offer valid from 26/11/2022 to 31/10/2024
From:
$1,481 MXN
taxes not included.